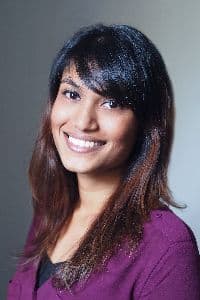 Sharanya Rajendran
Case Supervisor
B Psychology
Diploma in Biomedical Engineering
---
Sharanya (Shar) is a Case Supervisor with Think Kids. She holds Bachelors in Psychology.
Shar has over 10 years of experience working closely with children from various backgrounds cultures and ages. In her capacity as a Case Supervisor, Shar leads a team of therapists to work with parents and educators to implement positive change for individuals with special needs. She has run intensive therapies to further aid the clients regionally.
Shar engages closely with psychologists, schools and other allied healthcare professionals in the application and delivery of Applied Behaviour Analysis (ABA) techniques. She has worked with a wide range of children from 18 months old to young adults across a wide range of situations, including, intensive early home-based intervention programs and integration back into the community.
Shar also leads the social skills groups at Think Kids focused on topics, such as, life skills and community based support. She advocates the importance of taking an individualised approach and customising programs to meet the needs of the individual. Through her dedication to the field, working closely with parents and care givers are key components to her approach in helping individuals in her care.
Shar holds a certificate in Trinity Guildhall (Grade 6) and enjoys teaching speech, drama and literacy. She explores various modalities and takes an ecletic approach in her therapy to integrate arts and drama into her work. Shar also has volunteers her time to the Singapore Indian Development Association (SINDA) and Care Corner (Woodlands).
Shar strongly believes that each child has a special way of adding joy to her everyday, which keep her going. She plans to pursue her postgraduate studies in the field of psychology to further upgrade her skills.